You may wish to use audio descriptions of the icons in your project. These will help your users to understand what the icons mean.
Step 1: Firstly, you need to know what audio to record. Write a list containing all the words you would like to record to describe your icons. For example, for the bird project we have been working through, this list would look like:
Seen
Heard

Small Bird
Blue Tit
Robin
Sparrow
Unknown or Other
Medium Bird
Crow
Pigeon
Magpie
Large Bird
Red Kite
Buzzard
Tawny Owl
Unknown
Other
One
Two
Many
Feeder
Tree
Fence
Ground
Flying

Save
Discard
Start Again
Exit
Step 2: The next step is to record your audio. You need to record each item on the list as a separate file. The easiest way to do this is using the audio recorder on your phone. This may also be called "Voice Recorder.
Open up the audio recorder.
You should see a button to start recording. It may look like the images below.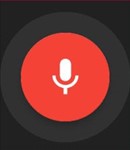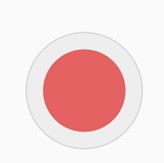 Tap on it to start recording.
Tap the stop button to stop recording and then save the recording with a filename that will tell you what is in the recording. For example "bluetit"
Step 3: Transfer your audio files to your computer in the same way as you would an image (via a cable, email or Bluetooth).
Step 4: To use them with Sapelli Designer, you need to make sure that your audio files are in .mp3 format. If they have not been recorded in this format you can use an online converter such as CloudConvert to change the format.
Once you have your audio files ready, the video below will show you how to add them to your Sapelli Project.
PLEASE NOTE: There is currently an issue with getting audio descriptions to work. Fixing this requires editing the .xml file of the project. If you need to use this feature, please set up the project as outlined above and then get in touch with UCL ExCiteS and we will sort this out for you.